Travel Information
Travel
International flight to the Kansai International Airport (KIX), and railway from the airport to Aioi Station. It takes about 2 hours from KIX to Aioi Station. From Aioi to the workshop site at SPring-8 takes 40 minutes by bus. Detailed guide on trains from airport to Aioi station is here.
Visas
Please refer to the web-site of Ministry of Foreign Affair, Japan.
http://www.mofa.go.jp/j_info/visit/visa/index.html
Currency and Credit Card
The local currency is Japanese Yen (JPY). You can also pay by your credit card (Amex, VISA, Mastercard, etc) at major hotels, restaurants, and shops, and you can also use US$ in some cases. Credit cards and foregin currency cannot be used within the SPring-8 site. We recommend all the foreign participants obtain sufficient JPY at the airport.
Electricity
100 V/60 Hz, Two-parallel-blade type connector. See figure. Please take note that US connectors resembling this are not fullly compatible in Japan.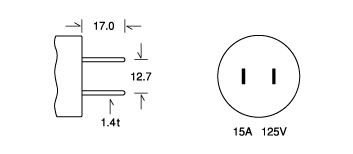 Links